"Sam's presentation at our annual chamber banquet was fantastic.  He provided non-stop laughs mixed with a great message on the power of having a positive attitude.  We have heard nothing but positive reviews from attendees. 5/5 of stars!!"
President, Garden City Area Chamber of Commerce
 "If you are looking for a keynote speaker, look no further than Sam Glenn. His presentation "Attitude Changes Everything" was the perfect way to kick off our Association Executive Meeting. Glenn was personable, funny and shared a great message that reached every person in the audience."
E. Hervey, V.P. Missouri REALTORS®
Rave Reviews from Our Fans
"My wife and I lost our three-year-old son a few years ago and hadn't laughed since. Sam Glenn was the closing keynote speaker at our annual conference, and I almost left before the closing. I am so thankful I didn't. For the first time in years, I laughed. I even cried because I didn't think it was even possible to laugh and feel good again. I know Sam isn't a comedian, but he had everyone laughing and it felt so good. His realness and message behind the art had everyone captivated. I have been attending this conference for over 13 years and this was "literally" the first time I have seen and been apart of a standing ovation. I tried to catch Sam before he left as he was in a rush to catch the last flight home to be with his family. However, after sharing my story with him, he put his bags down and rebooked his flight home for the next day. We walked to the coffee shop, grabbed a cup of coffee, talked about life, the joys of fatherhood and laughed.
I don't know too many people who would do this for a stranger. When I asked Sam, "Why?" His reply, "Because someone once did the same for me."
I honestly believe when you hire Sam, you are not just getting just another speaker, but a genuine person who cares. That is so rare today. So, if you are on the fence about having Sam speak at your meeting, let me just say, "JUST DO IT."   You just never know who needs to laugh again. My 3-year-old loved to laugh and as a way to honor his beautiful memory, I will keep laughing."
- Kyle W.
"Sam Glenn was able to lift our attendees' spirits, inspire us through stories and create the type of contagious laughter and camaraderie rarely found in a live session and never found virtually. The impact of his presentation was a feeling of joy that lasted well beyond the hour on screen."
- Christy Classi, CAE - Executive Director Kansas Society of Association Executives
"Your Opening Keynote received the highest marks on our attendee survey. Comments like Sam's presentation was not only engaging, entertaining, but relevant. As a meeting planner, once I read your book "Attitude Changes Everything" - I knew I needed to reach out to you to speak at our event..."
- Utah Credit Union AssociationM.P., VP Education and Training
"Sam Glenn was outstanding.  His presentation and stories really resonated with and had a great impact on our team. He was the best-received speaker that we've had at our meetings.  He was engaging, funny, impactful and brought a great energy to our day." - Wings Financial
"We were absolutely delighted to have Sam Glenn as our keynote speaker at the 2019 Oklahoma Safety & Health Conference.  He did NOT disappoint. The entire room was completely enraptured with his presentation. He made us laugh and he encouraged us to consider how attitude affects everything."
- Oklahoma Safety Council
"On behalf of GID and Windsor Property Management Company, I want to thank you for kicking off our annual conference. Your talents as a speaker certainly didn't outshine your skills as an artist! Our attendees found you entertaining, engaging, inspirational, captivating and funny.  Your positive messages and performance set the tone for a successful conference. We got the "Kick in the Attitude" that we all needed!"
"Sam Glenn did an amazing job kicking off our annual Summer Leadership Institute – not just once but twice in two different cities on different weekends – receiving rave reviews from our 3500 attendees. He got folks pumped up and ready to learn! You can't go wrong in bringing Sam to your event." - K.D, TX Association of School Boards
"On behalf of the attendees and the Oregon School Boards Association, I want to thank you for your participation our Annual Convention. You held our members' attention and had everyone laughing. You encouraged people in their unpaid volunteer service with your message on how they are their own real-life super heroes. People told us that we should have had you open the convention rather than close it. Thank you for your service to our members!"
"Can only say THANK YOU for bringing this presenter to close the convention. I appreciated his message and felt challenged to "check my attitude" and "share my popcorn!" Good job!"
"I saw you speak at the Indiana parks and recreation conference this week. I just wanted to send a quick thank you! I really appreciated your message and delivery, and needed a good laugh!" - A.M.
"Selecting Sam Glenn to come back for the fourth time to close out our annual Leadership Conference was an easy decision!  As we prepared for our conference and we had a great dialogue with Sam on the conference theme and how he could customize his message to relate back to our focus.  He brought our conference to a close with amazing stories that our team members could relate to and learn from.  Sam's high energy and personality shined on stage and left us inspired and laughing all the way home!" - Gene B. Glick, Property Management
More Reviews
"I highly recommend Sam Glenn as a keynote speaker. He quickly engaged the crowd, kept their attention and was the talk of the conference the rest of the week. Both of his breakouts were standing room only. After hearing him speak, meeting him after getting my book signed I started following him on Instagram, Twitter and Facebook. I get inspiration in all he shares. A++ speaker, A must have at any event big or small!!!" - Kris Kenney
Board of Director, Greater Fayetteville Apartment Association &
Executive Director, Hurricanes Sled Hockey
"Sam was the perfect person to speak to our team to kick the New Year off.  He was entertaining and engaging while delivering a impactful message on the importance of attitude.  It felt like our team was laughing and smiling the entire time Sam spoke and we received an amazing amount of feedback from the team on how much they enjoyed his message and delivery of the message." - - Brad Monts, Hoosier Heartland State Bank
"Sam Glenn did an outstanding and unforgettable performance for us. He captivated every single person in the room that are of all age groups and industry backgrounds, he even captivated the staff at the resort who were serving our dinner. His humor and his inspirational messages left everyone with a positive outlook and a sore belly from laughter. The feedback was overwhelming favorable and was toted "the best speaker we've ever had." - C. Trujillo, Treasurer of NMLTA
"We had Sam kick off our mortgage lenders conference and he is amazing!  He was very engaging and set the tone for our entire conference with an upbeat, positive message that our attendees loved!!!  His great attitude, fabulous sense of humor and wonderful delivery had everyone who attended on the edge of their seat wanting to hear more.  Sam is an awesome speaker and I would definitely recommend him." - L. McLean, Board of Directors for WYMLA

Jan Brezina
I have to say Sam's presentation was outstanding. The group was attentive and if you could say "mesmerized" I would. No one got up and took a call, very few people if any were reading emails and texts. It was really nice to see people listening and learning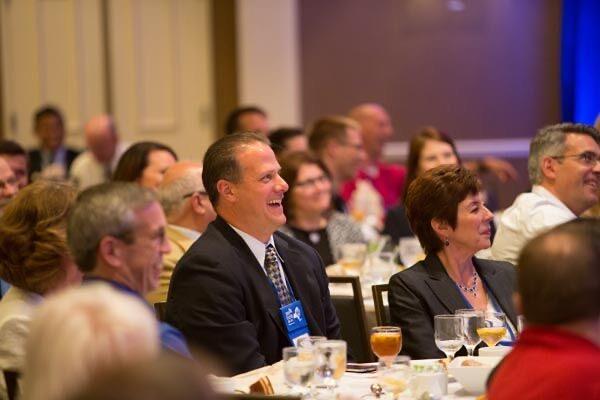 Your audience, inspired…impacted! 
That's the Sam Glenn D

ifference.
Finding the right keynote speaker to kick off your event or wrap things up on a positive note is not an easy task. You can have confidence and peace of mind that working with Sam Glenn and his team will prove to be a positively unforgettable experience from start to finish.