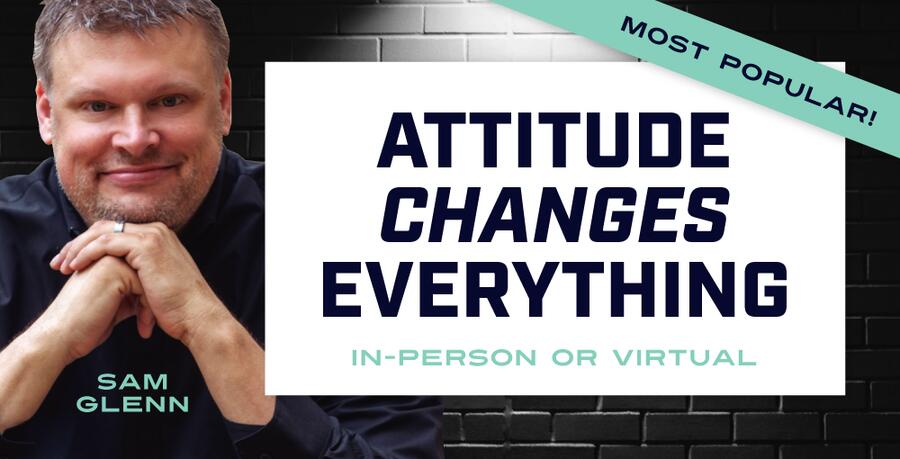 Attitude Changes Everything
(Virtual or In-Person)
This is Sam Glenn's most requested speech and for a good reason -  it's awesome!  (Just ask our clients!)
"…the impact of Sam's presentation was a feeling of joy that lasted well beyond the hour on screen." - Executive Director, KSAE
We have all heard speeches on the topic of attitude, but we have a feeling this one is going to be a little different than what you are used too. Sam Glenn's inspiring and artistic approach to educating and empowering will have you looking at your attitude in a whole new way.
If there is one thing for certain in life, it is that our attitude plays an incredible role in everything – both personally and professionally. Sam Glenn is considered one of the leading experts and authorities the subject of "attitude", having written more than 30 books related to this subject. Attitude Changes Everything offers an enlightening, entertaining and educational exploration into how our attitude works, what creates it, feeds it, how to keep it healthy and finally ways to use your attitude to author positive experiences.
Sam's speech will recharge your attitude like jumper cables to car battery.  
This keynote breaks attitude down into  4 primary  components:
1: Adjustment – how to adjust our attitude, keep it headed in the right direction and fuel it with positive momentum.
2: Instillation -  what makes our attitude function so it works for us and rewards us.

3: Application – how to partner your attitude with your skills and efforts to achieve the best results.

4: Impact – how to measure the impact of your attitude – what's working and what is not. 
Depending on the customization, Sam will highlight some of the following learning points:
• How to strengthen your attitude with resilience in times of change, challenge and uncertainty.  
• How to manage negative thoughts and encounters with others. 
• The number one source for infusing your attitude with positivity 
• How to author unforgettable stories and experiences for yourself and others with your attitude
• How to reduce stress, fatigue and the blahs with one simple 30 second trick.  
If you would like to discuss more, contact our amazing booking office and let's see how we can create an unforgettable experience for your group. Contact@SamGlenn.com 
Motivated by Art ©
Finding the Masterpiece in the Mess 
If you are looking for a fun and uplifting message that highlights valuable insights into wellness, resilience, and living a better life… this is it! No boring PowerPoint presentations here! Award-Winning Keynote Speaker and Best Selling Author, Sam Glenn offers a creative and fun way to educate and inspire his audiences through art. Sam is the only performance artist who delivers a captivating and unforgettable speech while he paints. This is not a speed painting, but rather an uplifting experience to encourage, energize, and celebrate resilience.
Bonus: The artwork belongs to you when Sam is done!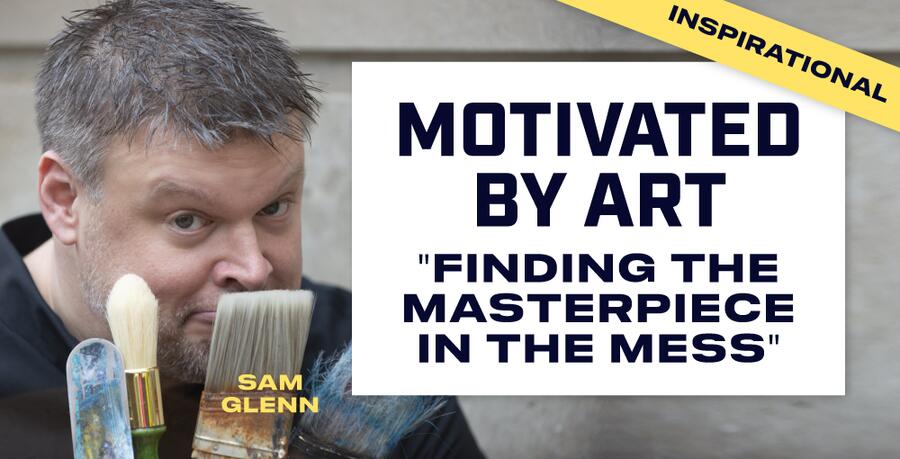 The Focus: This customized speech is largely focused on resilience. Resilience is not only something we aspire too, but something we celebrate with recognition. The way we reinforce a deeper value and appreciation for resilience is the acknowledgment of how far we have come and the encouragement to keep going.
From Mess to Masterpiece: Life can be messy, filled with changes, challenges, and uncertainty. However, with the right perspective, we can discover the meaning, message, and masterpiece in the mess.
At one time, Sam's life was a mess. Sam went from mopping floors at night – negative, depressed, and living in an '82 Buick Regal - to discovering purpose, resilience, art, and one contagious sense of humor. Sam is a self-taught abstract artist who uses his own original art concepts to communicate that life can be messy, but with the right perspective, we can discover an uplifting message and masterpiece within our messes.
Sam's love of art has inspired millions and continues to make a difference by raising over $100k a year for special causes through charitable auctions.
Finding the Masterpiece in the Mess: A mess can be defined as change, pressure, uncertainty, a bad day, or anything that just throws you off track. We can all agree, that life can be messy from time to time, so how we think in the mess determines if things stay a mess or if things become something better. When we think better, we make our work and life better.
So, can we really learn something helpful and be inspired by a simple painting? You bet! Sam Glenn is living proof. His clients love his presentations and hire him over and over and over again! They trust him to deliver excellence. Contact us to discuss how we can create and customize an unforgettable experience for your group.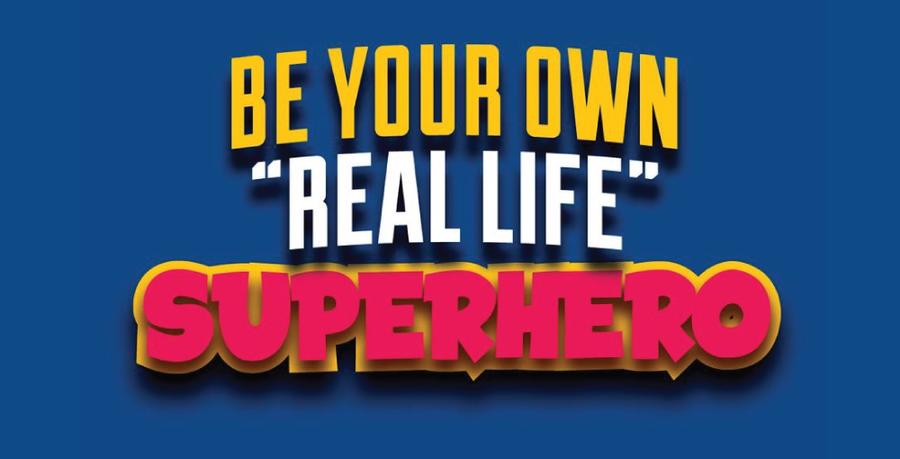 Be Your Own "Real Life" Superhero
A conference favorite!
This keynote talk is perfect for any group looking for something engaging, high energy and inspirational. Sam's superhero talk highlights the simple ways we can all be a real life superhero.
"To be a real life superhero, you don't need to save the world. It starts by doing the little things with a superhero attitude. What does a real life superhero look and act like in your organization?" — Sam Glenn 
Real life superheroes don't wear capes. (However, they are optional on Friday's or casual days.) Each of us has the ability to make a positive impact with the superpowers we have.  Being a real life superhero isn't like the movies, it's about doing the little things with a superhero attitude.
Being a real life superhero…
Means you may not get credit for your efforts, but you keep doing your best anyways. 
Is about looking for opportunities to contribute, take initiative and help out. 
Is about setting an example that others will want to follow and replicate.
 Is knowing that you are going to encounter adversities, villains with bad attitudes and situations that will test your superhero spirit. 
Is about being resilient, courageous and optimistic.
In this keynote, I like to learn what makes your people real life superheroes.  What does that look like in real life?  How can I help recognize your superheroes?  How can I encourage them to take their superhero status to the next level?
To inquire about this keynote, contact our office of superheroes to discuss.  Contact@SamGlenn.com
NEW!
 The Resilience Factor
Equipping yourself and others with the essential tools that keep us moving forward when things are uncertain, constantly changing, and continually challenging.
Imagine you and your team are preparing to climb a mountain, and you know it's going to be a difficult climb in unpredictable weather and other circumstances.
On this climb, you expect setbacks, uncertainty, and stress but you are confident with the right tools and the right attitude you and your team will arrive at the peak safely. You have been inspired by pictures of other teams who have reached the peak and celebrated together, as a team. So, the question is, what mental and emotional tools do you pack to keep everyone on your team encouraged, focused, and resilient? What lessons can you learn from people who endured challenges in the past and achieved success?

In this session, Sam Glenn will highlight the key components of resilience that empower, encourage, and equip your team for a successful (metaphorical) mountain climbing expedition. Sam will share practical tips that can be implemented today to begin the process of immediate individual improvement and ultimately succeed together as a team. A team is only as strong as its weakest climber, and Sam will share easy-to-implement ideas to strengthen your team as a whole. 
Giving up is not an option, but working together is a choice we have the opportunity to make every day! When we continue to improve both personally and professionally, both individually and as a team, we can reach peaks that we never imagined were even possible. We do not choose to live in unpredictable times but we do choose, each day, how we will approach the day and the challenges that come with it. Our attitude is the defining factor not only in our own lives but in the lives of those around us. 
Sam is an expert in inspiring resilience, sharing practical/easy to implement ideas, and rallying teams. Through humor and a one-of-a-kind art performance Sam keeps audiences captivated throughout his entire fully customized keynotes. 
If anyone knows how to rally and inspire resilience, it's Sam Glenn.  So contact our office and let us customize the right resilience message that hits a home run for your group and meeting.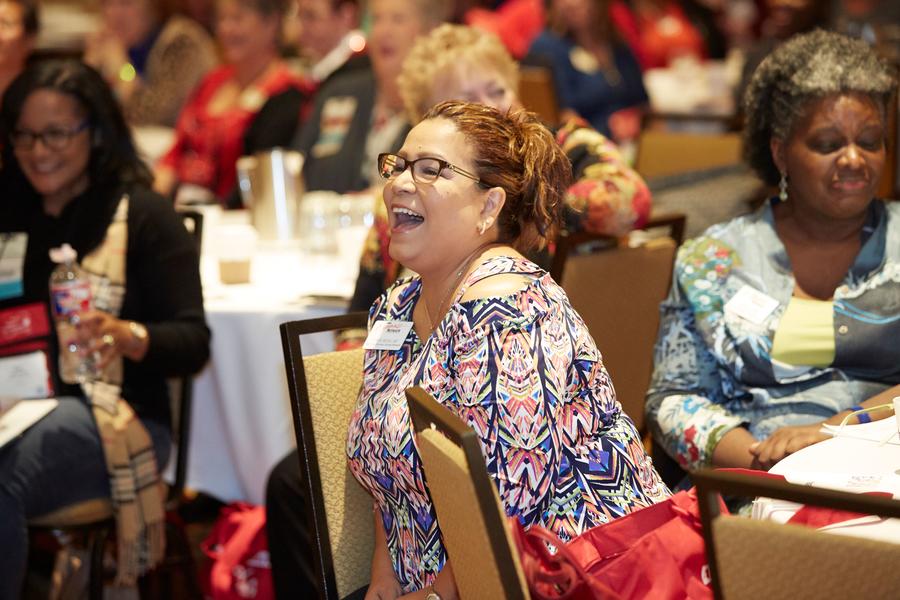 Your audience, delighted.
That's the Sam Glenn 
difference.
Finding the right keynote speaker to kick off your event or wrap things up on a positive note is not an easy task. You can have confidence and peace of mind that working with Sam Glenn and his team will prove to be a positive experience.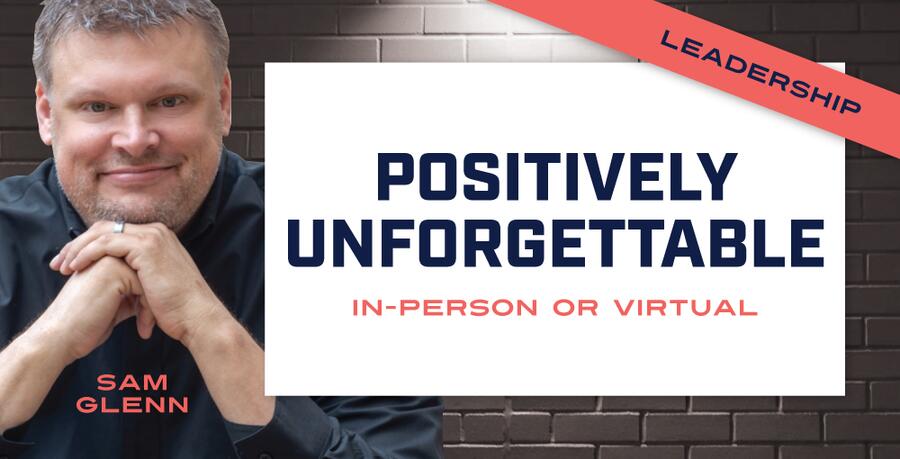 Positively Unforgettable.
(In-Person or Virtual)
Have you ever thought about what makes you unforgettable as a person?

As a parent?
As a teacher?
As a leader?
As a son or daughter?
As a friend?
A co-worker?
As a company?
Can you think of someone that changed your life in a positively unforgettable way?  What about a service experience that was so good, you keep telling everyone about it?
What makes us unforgettable as a person, a team or culture is when we choose to live and act out our "unforgettables".  
What are your unforgettbles?  What fills your time and space with a story that impacts others?
For example, if I spent just one day or even one hour in your workplace, what unforgettables would I want to share with the world?   Would I tell others, "This place and these people are incredible!"  Or would I say, "Thank God, I don't work there!"
Think about it.   
The "unforgettables" we implement are what create the stories that others remember.  Are creating stories that matter and make a difference important to you?
The most memorable factor in business, work and life are the stories we create through the unforgettbles that guide us. 
In an information overload culture, the little things often times are lost or easily forgotten and the impact of those forgotten principles can negatively impact nearly every aspect of both personal and professional lives. Forgetting one time may not create a noticeable impact but when these crucial principles are constantly over looked employee retention goes down, customer satisfaction and retention plummets, and the day to day employee culture suffers. A refresher and reminder of life's positive unforgettables keeps what is important front of mind and reinvigorates an organizations culture in the most positive way.
The Principles
Positively Unforgettable principles are the guiding values and key performance indicators that achieve the most consistent results. These "unforgettables" lead our daily choices, behaviors, and attitude in the best possible direction. They are what make us unforgettable in life, work, leadership and business.
Some unforgettable principles that contribute to making life and a workplace culture unforgettable also include:
1: Trust
2: Attitude
3: Safety
4: Drive
5: Respect
6: Purpose
7: Enthusiasm
8: Creativity
To be unforgettable in life, work and business, it's important that we clearly understand what our "unforgettables" are and practice them daily in both our personal and professional lives.
Contact our positively unforgettable office to discuss how Sam can customize this keynote speech for your next meeting or event.  Contact@SamGlenn.com 
Let's Build On Your Success and Create a Customized Speech that Inspires, Recognizes Progress and Makes a Positive Difference in Your Organization
How do you know which keynote talk will work for your meeting?  Sam will work with you to pick the best option.  Once you book Sam, he will do a conference call with you or your team to discuss how to best customize his motivational speech and determine the best performance painting to pair with the speech. ( Below are keynote topics that give a general idea and direction of the speech, but again, Sam will customize his key points so it reflects your meeting objectives, theme or goals.)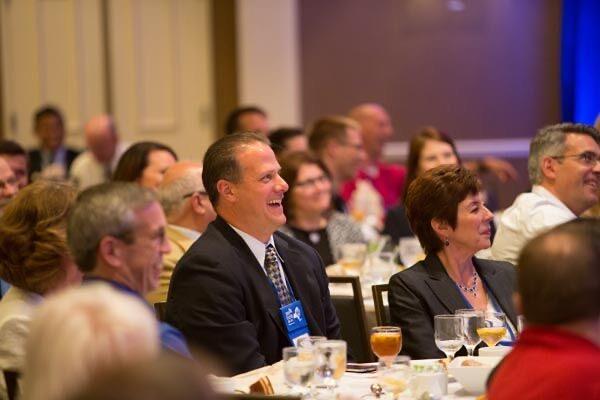 Your audience, inspired…impacted! 
That's the Sam Glenn D

ifference.
Finding the right keynote speaker to kick off your event or wrap things up on a positive note is not an easy task. You can have confidence and peace of mind that working with Sam Glenn and his team will prove to be a positively unforgettable experience from start to finish.